"During a stopover in Buenos Aires on her way to Chile, 31-year-old Maria recognizes a nursery rhyme. Maria doesn't speak a work of Spanish, but without understanding what she is singing, she remembers the Spanish lyrics. Disturbed and thrown off course, she decides to interrupt her journey and wander through the unfamiliar city. On the phone to Germany, she tells her father, Anton, about her experience and the peculiar fascination the unfamiliar city has had for her. Two days later, Anton suddenly turns up at Maria's hotel with something to confess: Maria spent the first three years of her life in Buenos Aires during the military dictatorship at the end of the 1970s. The people she had always thought were her parents had adopted her and brought her to Germany. Father and daughter begin a journey in search of Maria's biological parents. Anton does everything he can not to lose his daughter." (sourse: imdb)
To say the most important thing first, I liked the film a lot.
I liked the story dealing with questions of guilt and of identity. The film appears very structured and "clean", not many different characters are visibly involved - a modern "Kammerspiel" (intimate play).
The reactions of Maria, Anton and her new found family are always authentic, never over the top. Even though (hopefully) the majority of the audience has never been in a similar situations it grips you and you keep asking yourself "What would you do?". Of course the plot is not always fully logical and it left me with some open questions (who is Maria? is she single? does she have friends? a job? what happened to her German mum?) but it made me think about it quite a lot.
Little details suddenly sprang into my mind like the fact Maria calls her (as she doesn't know then) adoptive parents by their first names only.
My positive feeling about the film is probably linked to the fact that I like Jessica Schwarz as well.
In a way it is like "Lost in Translation" with a more substantial key conflict.
Only one little thing was annoying - yes, Maria is supposed to be a swimmer. But that doesn't mean that outside the pool in 99% of the time she still wears tops with racer backs. Her shoulders and whole body look great and toned, yes, but we got the message.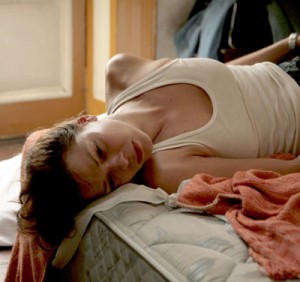 www.fn-magazin.de