(inspired by
Miss W.
)
"Life is what happens to you while you´re busy making other plans"
I'm a list lover but this one I have never started. Life is so unpredictable and can be so short or messed up that I never felt that there is much point in having a to-do-list which might be only there to make you feel as if you missed out on a lot or haven't tried hard enough. Anyway, before that makes me too psychological, here is my list:
1 -3. The first thing that comes to my mind is to create something that exists longer than life. A family, a work of art, a book...just something to give me at least the feeling of not disappearing without leaving a trace...quite selfish and in retrospective possibly utterly pointless.
1. have children
2. write a book
3. have some sort of positive impact on other peoples life (basically letting my inner Amelie Poulain out), e.g. through charity work and/or random acts of kindness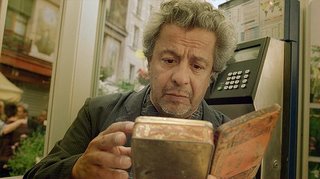 and on the more projectable and fun side:
4. going to the opera ball in Vienna
5. learning Russian so I can travel on the trans siberian railway and communicatewith my fellow travellers
6. be brave enough to walk into the Louis Vuitton flagship store in Paris and buy a handbag
7. going on holidays outside of Europe and finally doing a long-haul flight
8. speaking fluent French
9. walk to Santiago de Compostela (or anywhere else as long as the walk is long and lonely)
10. make a "water-proof" testament