Sometimes this world really makes me wonder...makes me doubt the sanity of society and nourishes the wish deep inside of me to just sit in a simple straw hut in the middle of nowhere and become a dropout.
I'm talking about insurance companies.
It is two weeks now that I am officially registered in the UK. I have signed up with a GP ("Hausarzt"), got my National Insurance Number (something like the "Lohnsteuerkarte") and a bank account. I moved from one EU country to another EU country - something that I am allowed to do and is not subject to any restrictions.
Silly me now thought that having a travel insurance might be a good idea. The fact that I have been lucky so far when it comes to lost luggage, emergency medical treatment or delayed flights doesn't mean this will go on forever. So far so good, I had a look on several of the constantly advertising insurance comparison websites. Been told that it will be done within minutes and that I won't pay a lot for it.
Haha! Not when it comes to me of course!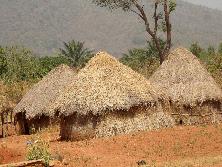 All normal policies are only covering you if you have been a resident of the UK for the last 6 months!
If not, fuck you then.
Really, what is the reason behind that? Why do I get excluded only cause I have been in a different EU country so far? Is that supposed to be form of a curfew for new residents?
One insurance advised me to try my luck with the "world nomads" insurances. Bloody hell...a world nomad? Because I am a German who has moved to England? And need cover for trips that are normally not more distant than 700k???
I seem to have found a gap in the system again...and give up. Stuff like that is tiring me out and wastes my precious time. Will keep living my wild and risky life uninsured then...and keep on dreaming about moving into that straw hut and leaving it all behind...if only I could get the right sort of insurance for that move ;-)