Country:
Denmark
Company/ Theatre:
Teater Grob, Kopenhagen
Language:
Danish
Author:
Anna Bro
Director:
Mia Lipschitz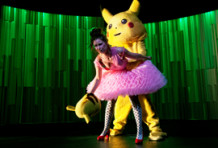 Description:
For young girls, the Internet is the realm of unlimited options and exciting promises. Here, all that counts is what you claim to be. But what if your analogue life is more fantastic than any Cyberworld? What if your soul mate turns out to be a fake? Then the Internet becomes a merciless place that will never forget. Before she knows it, the young girl is tangled in a web of rumours, lies and intimate photos. A Cybertale of friends with odd obsessions, absurd nightmares, lost innocence and our anarchic online-world
.
what I liked:
The idea to make a proper fairy tale out of that typical present-day story. I liked the way stage design, costumes and props fitted together. Nice to look at, all elements together created a perfect one hour.
what I didn't like:
It was not very intellectually challenging and would make a perfect play for teenagers. Girl goes out, experiences bad things in and through cyberspace and finds peace by going into nature with a good-hearted boy.
verdict:
Although first I felt like I got lectured too much, I liked it. Short, pure, and simple. And the Danish language was actually fun and didn´t sound as "snatchy" and choking as it can do sometimes.