Country:
Ireland
Company/ Theatre:
Ulster Bank Dublin Theatre Festival 2011 / Brokentalkers, Dublin
Language:
English
Author:
Brokentalkers
Director:
Feidlim Cannon & Gary Keegan
seen on the 22.06.12 in Wiesbaden at the
"New Plays from Europe"
festival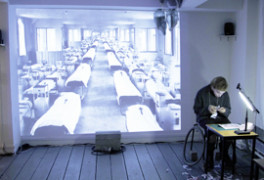 Description:
THE BLUE BOY is a synthesis of the arts: acting, dance, video, live music and performance. It deals with the Irish Ryan report on the abuse scandal in the Catholic Church. The production gives a voice to an entire country that concealed abuse in Catholic institutes of education for decades. Seven performance artists raise the question of guilt. They speak for the tortured victims, leaving no member of the audience untouched.
what I liked: It was a very powerful evening. Not theatre in a conventional sense, more a collage of dance theatre, film excerpts music and rhythm. Listening to Gary Keegan talking about his personal family history and e.g. showing the yardstick his grandad used for measuring the bodies of dead schoolboys in order to find the right coffin...chilling without showing anything graphic.
what I didn´t liked: nothing
verdict: A resounding performance that makes you thinking and draws you right into that long and pitchblack chapter of Irish history that still is far from being finished. Made me read up on certain aspects and is still "speaking" to me a week later.